It's the Wild West in Aiken! The Great Cowboy Horsemanship Show & Cookout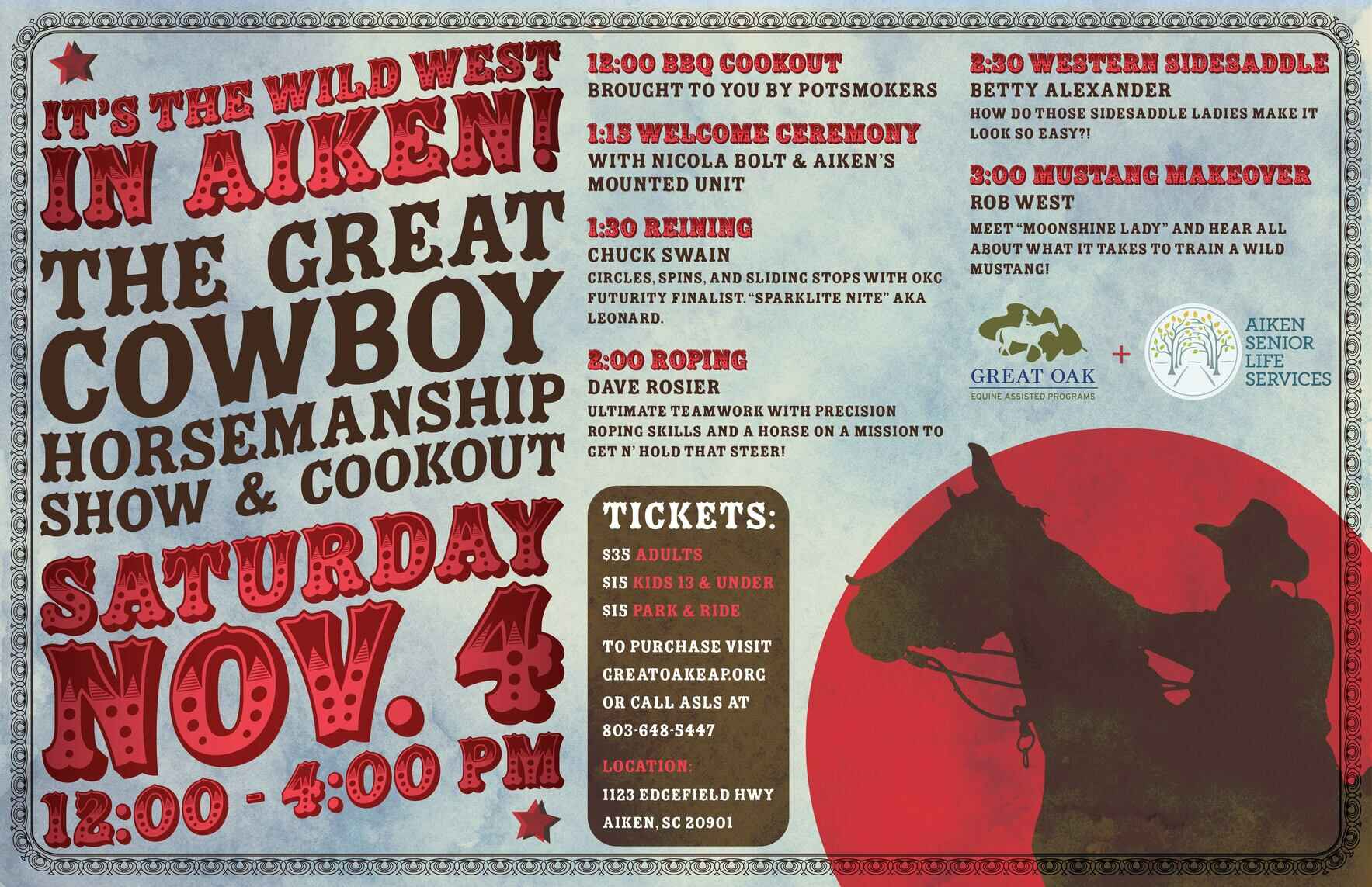 Starting at NOON join us for a finger-licking good BBQ buffet lunch—then sit back and enjoy the show with Cowboy Horsemanship know-how and riding demos! There's a reason those cowboys and their horses can make reining, roping and riding wild mustangs look so easy. It's called Horsemanship, Trust and Training!
Learn firsthand from the tried-and-true best riders around:
Reiner Chuck Swain, tells you what it takes to ride, slide, spin and stop
on a dime —
Roper Dave Rosier on timing, teamwork and throwing a lasso from
your galloping horse.
Betty Alexander demos riding Western sidesaddle and explains its eye-
opening history…
Rob West, trains wild mustangs – to compete in the Mustang
Makeover Challenge –14 so far–and he'll show you how he truly speaks
'horse'.
And don't forget to buy your raffle tickets to win one-on-one training
sessions and quick getaways for you and your posse.
When the Wild West comes to AIKEN—don't miss it!!
Great Oak Equine Assisted Programs partnering with
Aiken Senior Life Services/The Anne & Cot Campbell Center
invite you to join in on a Cowboy-themed day of good food and western
riding demonstrations. It's fun for the whole family!
TICKETS:
$35 Adults
$15 Kids (13 & under)
$15 Park & Ride Tickets*
*Aiken Senior Life Services will be selling Park & Ride Tickets.
This will entitle Park & Ride pass holders to park their vehicles at
the Anne & Cot Campbell Center parking lot, home of Aiken
Senior Life Services and be driven directly to and from the event .
Leave the driving to ASLS and enjoy your day!
For more information call 803-648-5447
Show schedule is as follows:
12:00pm – 1:00pm Cowboy BBQ buffet – catered by Potsmokers (There will also be Vegetarian options –please indicate when you purchase your ticket
1:15pm – Welcome Ceremony with Nicola Bolt & Aiken's Mounted Unit
1:30pm – Reining – Chuck Swain
2:00pm – Roping – Dave Rosier
2:30pm – 2:45pm arena groomed and three raffles announced
2:45pm – Western Sidesaddle – Betty Alexander
3:00pm – Mustang Makeover – Rob West
4pm – Final raffles drawn